Active Transportation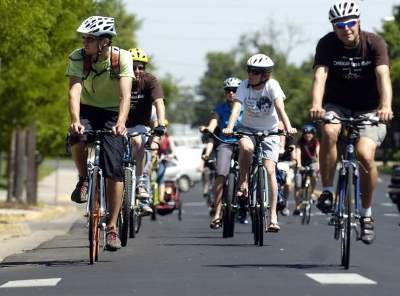 Active transportation refers to any form of human-powered transportation, such as walking, biking, running, paddling, swimming, skiing, skating, or skateboarding. Using our bodies to get places—or just to move through our beautiful Colorado landscape for the sheer joy of it–reduces our impact on the environment, helps us live longer and feel better, resets our sense of space and time to a more human scale, and can save money, too. Here are some of the ways that Make TODAY Count! is supporting active transportation in the community:
Built Environment Changes
Make TODAY Count! works to make Weld County more bike-friendly and walk-friendly. The City of Greeley has made great strides in the past few years in providing more on-street bike lanes and routes that connect popular destinations, including adding a bike lane on a state highway! Here are some of the accomplishments for this year:
Bike lanes on 59th Ave from 4th Street to F Street
Bike lanes on 20th Street from 10th Ave to Reservoir Road
Bike lanes on 18th Street from 8th Ave to US 85 bypass
Bike lanes on 14th Ave from 9th Ave to 2nd Street
International Walk & Bike to School Day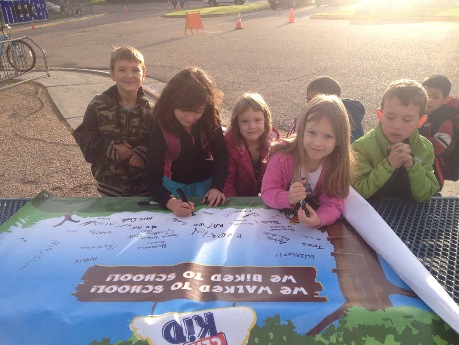 The Make TODAY Count! campaign helped host International Walk & Bike to School Day for Weld County schools on October 9th, 2013. Over 600 students from the following schools participated:
This was an energizing event, reminding everyone of the simple joy of walking to school, the health benefits of regular daily activity, and the need for safe places to walk and bike. Classes competed for the highest participation, and then the winning classes were awarded with a golden shoe. Other agencies that helped organize the event include:
Turn Around Bike Program
Turn Around Bikes (TAB) is a www.ncyfc.org/">Northern Colorado Youth for Christ program that uses the power of bicycles to fight poverty and encourage healthy lifestyles. TAB fixes up bicycles and gives them to local organizations and individuals who need them. The Make TODAY Count! campaign helps to ensure the long-term sustainability of the bicycle connection by providing a bike helmet and a bike lock to individuals receiving bikes. To date, the campaign has connected 50 helmets and 50 locks to individuals in need. To donate a bike or to volunteer your time to TAB, email them at info@nycfc.org.
Critical Mass Bike Rides
Make TODAY Count! has organized two Critical Mass Bike Rides so far this summer. Critical Mass Rides draw attention to the benefits of active transport, heighten awareness throughout the community of great bicycle connections and safe routes, and bring public attention to areas still in need of improvement. Stay tuned for the date of the September ride, and click here to receive alerts.
Bike to Work Day
Make TODAY Count! hosted a breakfast station for the 2013 Bike to Work Day organized by our partners at the North Colorado Medical Center . There were approximately 600 bikers and pedestrians this year!
Click here to learn more about active transportation resources in Weld County.