Make TODAY Count! is a community health campaign that involves all of Weld County in an effort to build a stronger and healthier community.
Make TODAY Count! is about making everyday choices, and taking everyday steps, to make us healthy and strong as individuals and as a community.  The campaign involves all of Weld County—individuals and families, schools and churches, organizations and businesses.  Our goal is to engage people in making simple choices every day that together will make Weld County thrive.
Make TODAY Count! is working together with community partners to:
Improve Well-being
Increase Healthy Eating
Increase Active Living
Make TODAY Count! is powered by a growing collaboration and commitment of individuals, agencies, and businesses throughout Colorado's Weld County. It is supported by a community benefit grant from Kaiser Permanente, and coordinated by the North Colorado Health Alliance.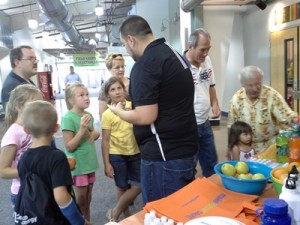 A strong and healthy community is one that promotes well-being and offers a high quality of life to the people that are a part of it. People of a healthy community are safe, well-informed, have the power to make choices, have strong bonds with one another, and have a sense of purpose, meaning, and joy in their lives.
Our strength and health, as individuals and as a community, start today–in our homes and neighborhoods, in our schools and churches, in our streets and parks and marketplaces, and in our workplaces and organizations. Every day holds many opportunities to do things for yourself, for your family and friends, and for your community.
When you Make TODAY Count!, you make yourself healthier and your future brighter.. and you make the whole world a little bit better right away.